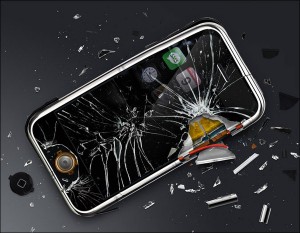 When you go to purchase an iPhone 5 or 5S, you will be asked if you want to purchase an AppleCare+ warranty, however, that is not the only option available. You are also able to go through a third party such as SquareTrade to have your iPhone fixed in case it breaks. If you choose to not buy a warranty, then your iPhone can be replaced by Apple for a standard fee of roughly $200. For both SquareTrade and AppleCare+, you must purchase the warranty within 30 days. The warranties each have their pros and cons which will be discussed below.
Price for a iPhone 5 16GB Warranty:
SquareTrade – $99-$125 (depending on if any promotions are going on).
AppleCare+ – $99
Deductible:
For SquareTrade, a $50 deductible applies for all claims while AppleCare+ only charges their $50 deductible on accidental damage.
Coverage:
Apple limits the warranty's repair coverage to two accidental claims per the warranty.  There is no limit to the number of repairs which are needed due to manufacturing errors which cause the device to become defective.
SquareTrade limits its coverage up to the price of the iPhone. This basically means if your iPhone is worth $600, they will repair it as many times as it breaks until it costs them $600 worth of repair work and parts.
Downsides to a warranty:
If you do some simple math, many people believe that a warranty is not worth the investment unless you are really prone to accidents. Here is an example. If you have an iPhone 5 and drop it in your pool, it would cost you the $99 you paid for the warranty plus the $50 deductible to replace it since its accidental damage.  In reality, it would cost you about $150 to get a replacement. If you didn't have a warranty, Apple would exchange it for the flat rate of $199. By purchasing a warranty and paying $99 up front, you save $50 in the long run if you accidentally damage your phone once. If you damage your phone again, then it will you cost another $50 deductible so you would have paid $200 total for the warranty and two replacement deductibles. If you didn't purchase a warranty and broke your iPhone twice, then it would have cost you roughly $400 to replace.
Overall, its your choice if you want to protect your iPhone with a warranty. I would personally recommend just using a protective case on your iPhone and being a bit more cautious, however, accidents do occur and its always best to be on the safe side.  Note that both of the warranties mentioned above do not cover loss or theft.  If you would like a warranty that does, you can usually call your cell phone carrier within 30 days of your iPhone's purchase and add a monthly plan which also has a deductible but covers loss and theft as well.  Prices vary depending on the type of iPhone you have and the carrier.  Usually the warranty is offered through Asurion.